KS523 multi-line plunger type electric grease pump
KS523 multi-line plunger type electric grease pump
CARSEN

CHINA

30

1,000 units
KS523 series products are the latest multi-line plunger type centralized lubrication device. It is small size, high output pressure (12MPa), large capacity, and point-to-point lubrication, if one line is not smooth it will not affect the normal oil supply of other lines. The main advantages are that it is used in many fields such as buses, heavy trucks, sanitation vehicles, heavy-duty vehicles, construction machinery, mining equipment and so on.
There are 2 patents for this product: a. a 360° rotating plate; b. With oil level alarm.
Price: 465-550 USD
Payment terms: 50% downpayment, 50% LC at sight (by reputed bank)
Short film: https://www.youtube.com/watch?v=RjegzW3PoTA
Leading point of technological innovation
●Using plunger pump core to supply grease, the output pressure can reach 12MPa, and NLGI-0/1/2 grease can be applied freely.
●The plunger pump has a quantitative oil pumping function. There are two kinds of oil output to choose. The pump core can be selected according to the grease demand to achieve point-to-point lubrication. The failure of one oil circuit will not affect the normal oil supply of other oil circuits.
●The maintenance cost is low, and the procedure is simple, avoid the system failure caused by the problem of the oil separator and the quantitative oil injector.
●The oil tank is equipped with a 360° rotating plate to ensure that there is no residue of grease and avoid grease pollution due to the variation of residual grease (Patent No. 201922155836).
●It can be operated by manual real-time controlling.
●In one pump, there are 1-20 points of output to choose.
●Dustproof and waterproof can be used in harsh environments.
●With oil level alarm (Patent No. 2017202182910)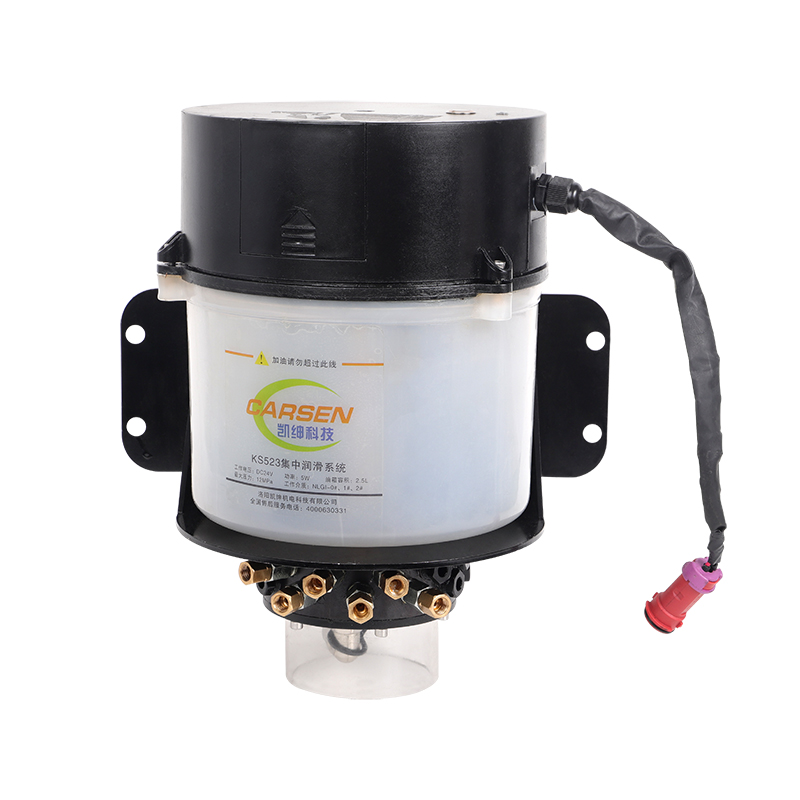 KS523 Installation dimension drawing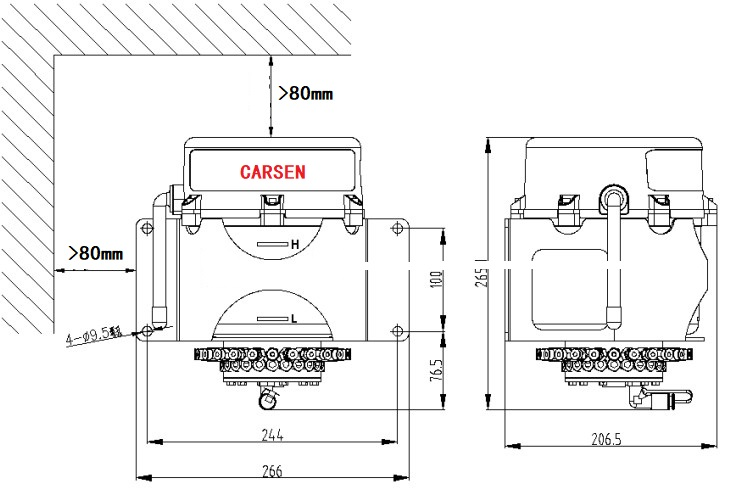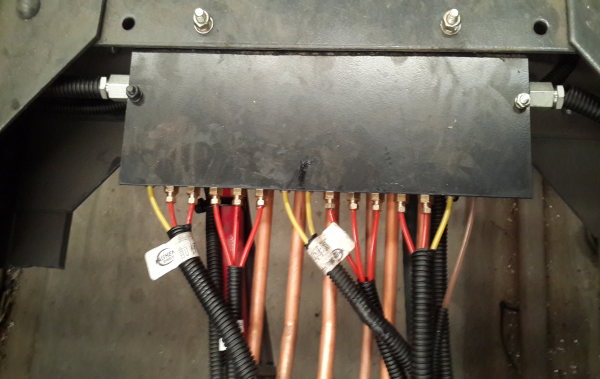 Technical specification

| | | |
| --- | --- | --- |
| MODEL | | KS523 |
| WORKING PRESSURE | MPa | 12 |
| WORKING FLOW | ml/min | 0.02/0.04 |
| GREASE TANK | L | 2.5 |
| LUBRICATION POINTS | | ≤20 |
| Filling interval | Hours | 0.5 |
| MOTOR VOLT | V | DC24V |
| MOTOR POWER | W | 5 |
| LENGTH | L(mm) | 220 |
| WIDTH | B(mm) | 195 |
| HEIGHT | H(mm) | 268 |
| INSTALL HOLE 1 | L1(mm) | 244 |
| INSTALL HOLE 2 | H1(mm) | 100 |
| WEITHT | kg | 5 |
| GREASE APPLY | NLGI-# | 0/1/2 |
| CONTROLLER | | REMOTE CONTROLLER |
| oil level alarm | | YES |